MTT-INFIZ Vivarium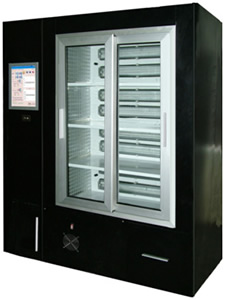 Our company developed the MTT-INFIZ Vivarium, a device intended for raising and keeping plants and insects in specific controlled conditions.
It is designed to maintain temperature up to +45°C and relative humidity up to +98%. Simulation of the day-night cycle is automatic, while the illumination period can be defined by the user.
The control interface of the MTT-INFIZ Vivarium is located on the left side and consists of a touchscreen under which is placed a start button of the system and a USB port for downloading data from the computer. A cabinet with the control electronics and the computer is located in the lower-left corner of the device.
The central part of the MTT-INFIZ Vivarium is a work area that consists of light sources and shelves where different sorts of plants and insects can be grown. This work area is separated from the environment and protected against external influences by sliding doors with vacuum-sealed glass.
BASIC CHARACTERISTICS
| | |
| --- | --- |
| Dimensions LxWxH (mm): | 1500x700x1900 |
| Power Supply: | 220V±10%    50Hz ±10% |
| Heating Power: | 600W |
| Humidifier Capacity: | 350gr/h |
| Illumination: | 8 x 420 cd |