Laboratory Equipment for Educational Purposes
Laboratory exercises represent an extremely important aspect of education, especially when it comes to science, technology, and engineering disciplines. Therefore, MTT-INFIZ developed laboratory equipment specially designed for educational purposes.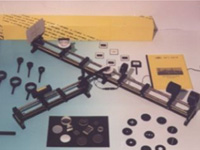 OPTICAL BENCH
This educational kit consists of more than 30 different elements that can serve to conduct around 20 different laboratory exercises in the fields of geometrical and physical optics.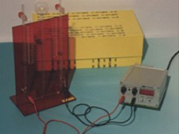 ELECTROLYSIS APPARATUS
This apparatus aims to demonstrate the process of electrolysis and the production of hydrogen, i.e. oxygen. Also, it is possible to check Faraday's First Law of Electrolysis. This educational kit is also equipped with a 15V universal voltage source, and a 5A current source, that can be also used for other laboratory experimental setups.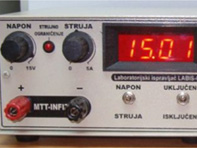 LABORATORY RECTIFIER
A 15V universal voltage source, and a 5A current source, can be used for numerous laboratory experimental setups (e.g., power supply for a semiconductor detector, various electronic circuits, electromagnets, etc.).

SIGNAL GENERATOR
Signal generator is indispensable part of laboratory setups for numerous experiments in electronics and acoustics. The frequency range of the signal is 0.1Hz-99.99kHz, and the shape of the signal can be sinusoidal, triangular or rectangular. The device can measure the frequency of the generator, as well as the frequency of the external signal.